Slamhandle for Renault Master - [Mar10>current]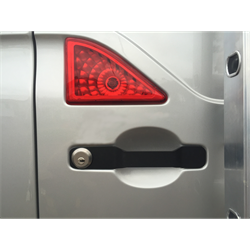 There is a growing problem with van handles being removed easily due to the way they are fixed; through plastic clips and un-secure fittings. Whilst other products offer limited protection, the Slamhandle is the only product which provides full protection against this break-in method. It is the secure alternative to the often vulnerable existing manufacturers handle; generally requiring no additional drilling or fixing points for installation.
The Slamhandle provides increased integrity and strength of the OEM locking system and incorporates our SlamLock (either fitted in the actual handle, or in the case of the Citroen Dispatch/Vauxhall Movano and their equivalents, the Slamlock has to be fitted separately in the door). It will automatically lock when the vehicle door closes and cannot be reopened unless the correct high-security key is used, ensuring the door is always locked and dramatically reducing the chance of theft.
The Slamhandle design, offers a 'direct release' function, which allows the door to be opened directly when turning the key [This one handed opening facility is ideal for couriers who often have their hands full of parcels].
Constructed from Galvanised Steel with a black polyester powder coat finish, careful consideration to the application has been applied to ensure the design follows the existing contour of the door.
Slamhandles are door/model specific, installation is quick and simple and should not take much longer than replacing a standard OEM handle.
Please look at Key Options to assist with choosing the correct key system for your requirement.
Slamhandle kits are automatically supplied keyed alike [all operate from one key] and are supplied with full fitting instructions and fixings.
Ordering:
Please select your vehicle and choose how many doors you wish to protect from the PRODUCT: drop down box.
Next you will be asked to select which door you want to secure by clicking in the box against selected OPTIONS.
Lastly confirm the QTY required and click on BUY NOW to proceed to checkout.
SECURITY
Deadlock
Improve security by adding an additional locking point to the door, working independently to the vehicles existing locking mechanism. Provides flexibility by allowing the user to decide when the deadlock is locked/unlocked.

From £53.00

Handle Shield
Inexpensive and innovative product range that protects the vulnerable external area around the vehicles door handle.

From £40.00

Replacement Keys
After continuous use all keys will wear. To ensure the correct operation of your additional Security Locks, the key may need to be replaced. Replacement Keys are available to order on line by following the steps below.

From £12.50

Slamhandle
Allows for a SlamLock to be incorporated into a Steel replacement handle, protecting against the common vulnerability of the manufacturers handle being removed.

From £103.00

Slamlock
Our SlamLock automatically locks when the vehicle door closes and cannot be reopened unless the correct high-security key is used.

From £53.00