LoomGuard for Ford Transit - [2014>current]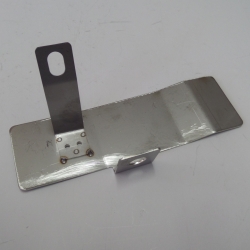 It is now almost common knowledge that the Ford Transit and Transit Connect vans had a major flaw in their security system by allowing an exposed rear wire loom. This is often cut in an attempted theft and whilst no longer allows access to the vehicle, it still damages the wire loom and causes the remote locking to stop working until the loom is either fixed or replaced - costing as much as £160 at some dealers.
The LoomGuard is the original product designed to prevent this. Whilst many have copied our solution, no-one has matched it. A simple milled and coated aluminium block slots around the loom allowing minimum exposure when the door is closed - preventing a thief sliding a Stanley knife or hacksaw blade through the gap to cut it. Fitted in seconds using supplied fixings.
More recently the Transit Connect drivers door looms are being cut resulting in the thief gaining entry. We have quickly designed and brought to market a solution to prevent this from happening. The Connect cab LoomGuard can be fitted in minutes, using existing door fixings. Once again a very cost effective solution to a potentailly expensive problem.
Ordering:
Select vehicle from list.
Select option from PRODUCT from drop down box.
Confirm QTY required and then click on BUY NOW to proceed to check out.
SECURITY
Armaplate

From £54.00

Deadlock
Improve security by adding an additional locking point to the door, working independently to the vehicles existing locking mechanism. Provides flexibility by allowing the user to decide when the deadlock is locked/unlocked.

From £53.00

Loomguard
Designed to prevent cutting of vulnerable wiring loom guard on select vehicles.

From £20.00

Replacement Keys
After continuous use all keys will wear. To ensure the correct operation of your additional Security Locks, the key may need to be replaced. Replacement Keys are available to order on line by following the steps below.

From £12.50

Replock

From £110.00

Slamlock
Our SlamLock automatically locks when the vehicle door closes and cannot be reopened unless the correct high-security key is used.

From £53.00