SlamLock for Citroen Berlingo [19>current]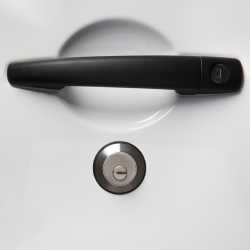 Human error is the single largest cause for vehicles being left unlocked -Our british standard SlamLock addresses this problem by design. It will automatically lock when the vehicle door closes and cannot be reopened unless the correct high-security key is used, ensuring the door is always locked and dramatically reducing the chance of theft.
The SlamLock's inbuilt dust cover helps to prevent water, dust and dirt entering the key way and clogging the mechanism. Other design features include high security cylinder, a large internal reinforcing washer, 34mm locking body nut, anti-drill roll pins and selectable operation, making this lock the choice for the majority of the major UK courier and parcel delivery companies.
For strength we link into the manufacturers latch system and in most cases are able to offer a 'direct release' function, which allows the door to open when turning the key [This one handed opening facility is ideal for couriers who often have their hands full of parcels].
All of our systems undergo rigorous testing to ensure long life and low maintenance.
Please look at Key Options to assist with choosing the correct key system for your requirement.
SlamLock kits are automatically supplied keyed alike [all operate from one key] and are supplied with full fitting instructions and fixings.
Ordering:
Please select your vehicle and choose how many doors you wish to protect from the PRODUCT: drop down box.
Next you will be asked to select which door you want to secure by clicking in the box against selected OPTIONS.
Lastly confirm the QTY required and click BUY NOW to proceed to checkout.
SECURITY
Deadlock
Improve security by adding an additional locking point to the door, working independently to the vehicles existing locking mechanism. Provides flexibility by allowing the user to decide when the deadlock is locked/unlocked.

From £53.00

Replacement Keys
After continuous use all keys will wear. To ensure the correct operation of your additional Security Locks, the key may need to be replaced. Replacement Keys are available to order on line by following the steps below.

From £12.50

Slamlock
Our SlamLock automatically locks when the vehicle door closes and cannot be reopened unless the correct high-security key is used.

From £53.00