Ultimate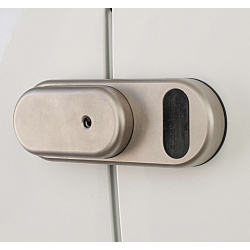 Testament of L4V's objective to provide world leading security products for use on Light Commercial Vehicles; it's latest offering, the Ultimate has revolutionised acceptable levels of security for today's modern fleet vehicle. It has been designed, manufactured and tested to address and combat the existing and potential methods used by even the most determined would be thief.
The Ultimate is the product of choice for those who require the ultimate answer to their security needs.
No expense was spared when producing this pedigree locking system; its features include - A body made from lightweight yet durable Alloy. High security, low maintenance semi-automatic locking system houses the hardened steel locking bolt and has been developed to our exact requirement. Unique angled body designed to deflect direct blows from a hammer, patent-pending inter-locking (anti-jemmy) rear body and 45 degree side door body chamfer, which allows the Ultimate to close to a gap from 3mm and acts as additional protection to the systems locking bolt. Hardened steel, anti-drill inserts in the lock bodies to prevent circumventing of the locking system. High quality anodised finish to prevent corrosion in the harshest of environments and bespoke internal reinforcing fixing plate to achieve the securest mount possible.
Available in Deadlock or Slamlock version.
Please contact a member of our sales team if your vehicle is not listed. We only list the vehicles that we can provide full installation guides for, however others are available.
Ordering:
Please select your vehicle and choose how many doors you wish to protect from the PRODUCT: drop down box.
Next you will be asked to select the door OPTIONS [applicable to your chosen vehicle] by clicking in the box against selected option.
Confirm the QTY of packs required and click BUY NOW to proceed to checkout.
We stock Ultimate Security Products for the following Vans: