ProPlate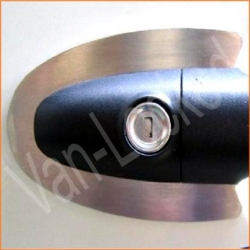 ProPlate is a clever, innovative range of security protection plates designed specifically to protect the vulnerable area surrounding the manufacturers door handle which is normally targeted by thieves.
The ingenious design of ProPlate requires no drilling during the installation process, as they are secured to the vehicle by the existing manufacturers door handle [significantly increasing the security when compared to other adhesive products] and adhesion.
Careful consideration has been taken for each application to ensure that the maximum security is achieved with minimum intrusion and in most instances, there is no need to remove the manufacturer's internal door card during installation which reduces the installation time.
Many applications utilise an additional internal deflection plate to shield the manufacturers locking system from known bypass methods.
Favoured by many large fleet operators due to ease of installation and effectiveness, this is a very cost effective solution to a common problem.
ProPlate offers an ideal deterrent helping to prevent break-ins but is equally suited for re-securing a door or covering damaged caused by a previous break-in or attempt.
Not available for tailgate doors.
Ordering:
Please select your vehicle and choose how many doors you wish to protect from the PRODUCT: drop down box.
Next you will be asked to select which door you want to secure by clicking in the box against selected OPTIONS.
Lastly confirm the QTY required and click BUY NOW to proceed to checkout.
We stock ProPlate Security Products for the following Vans: