HeoSafe cab locks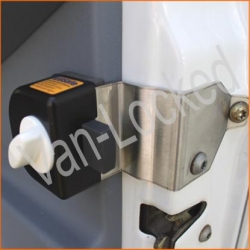 HeoSafe cab locks are an essential product for the modern motorhome owner. They provide increased security by creating an additional internal locking point to the door, preventing unauthorised entry whilst the vehicle is occupied.
Both convenient and secure, the aluminium and stainless steel constructed locks are available in both locking and non locking operation. Non locking works with a simple thumbturn which is easy to lock and quick to unlock in the event of an emergency. The lockable function works in the same way but benefits from ability to lock off the handle utilising the key lock - ths improves security when away from the vehicle.
Many vehicle applications require no drilling during installation, and instead utilise the interior trim fixing holes for fitment. Many later models are simply installed with minimum drilling (fitting instructions available for all models).
Supplied in pairs, keyed alike (utilise same key).
Ordering:
Please select your vehicle, next select desired locking option from the PRODUCT: drop down box.
Confirm the QTY required and click BUY NOW to proceed to checkout.
We stock HeoSafe cab locks Motorhome Security Products for the following Vans: