Wind Deflectors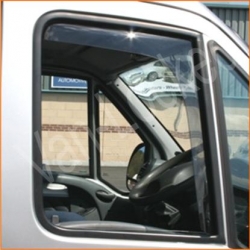 Wind Deflectors allow you to enjoy the fresh air with your windows open by reducing glare, misting and also penetration from the wind and rain. The benefits of driving with your windows opened, include allowing air to circulate in the vehicle, which reduces heat build up making the whole experience more relaxing and comfortable.
Our high quality Wind Deflectors are vey easily fitted in minutes and look great. They install inside the window channel and are not stuck on the outside, like some others.
Our Wind Deflectors do not restrict or interefere with the vehicles normal window operation and can be transferred if required.
Manufactured from 3mm and 4mm thick light smoked perspex and
to the highest european standards, they come complete with a two year manufacturer guarantee.
Vehicle and model specific they are supplied with full fitting instructions.
Ordering:
Select your vehicle from the lost
Select your PRODUCT from the drop down list
Confirm QTY required and click BUY NOW to proceed to checkout.
We stock Wind Deflectors Accessories Products for the following Vans: