Search
Security
Motorhome Security
Accessories
Racking
Ladder Slides for Accessories Universal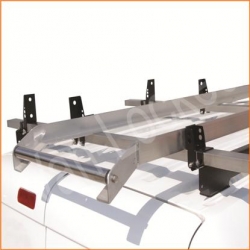 The VG range of lightweight aluminium ladder slides provide a quick and easy solution for regular loading and unloading of ladders. The slides incorporate a stainless steel roller [on nylon washers for smoother operation] which means the ladders can be stowed with the minimum of effort.
Available in 2, 2.5 and 3 metre lengths and supplied in fitting instructions and fixings.
**FREE DELIVERY ON ALL VG LADDER SLIDES**
Ordering:
Choose PRODUCT from drop down list below
Confirm QTY required and click BUY NOW to proceed to check out.
SECURITY
Catloc
The highly effective, cost effective CATLOC is a market leading catalytic converter and particulate filter anti-theft device.

From £95.26

Catloc Isr Kit
Catalytic converter security marking and registering kit.

From £9.99

Clutchclaw
Prevents theft of a vehicle by locking the break and clutch pedal together.

From £81.50

MOTORHOME SECURITY

Abus Deadbolt
Additonal locking option for fitment on most habitational, shutter and compartment doors on motorhomes and caravans.

From £16.90

Heosafe Pos Lock
Excellent security for habitation doors on both motorhomes and caravans - using POS type locks

From £59.49

Heosafe Upgrade Kit
Replaces the existing vulnerable handle with a high security HeoSafe kit.

From £86.83

Heosafe Zadi Lock
Excellent security for habitation doors on both motorhomes and caravans - using Zadi type locks

From £59.49

ACCESSORIES

Extension Bars
Maxrack Extension Bars

From £16.00

Eye Bolts
VG Stainless Steel Eye Bolts

From £10.00

Fire Extinguishers
ABC Dry Powder Fire Extinguisher

From £27.00

Flettner Roof Vent
Designed to extract air from the van load area, reducing the effects from unwanted fumes, smells and condensation.

From £83.00

Front Load Stops
Prevents loads carried on roof systems from slipping forward under braking.

From £33.00

Ladder Clamps
Cost effetive solution to securing ladders on a roof system.

From £26.00

Ladder Slides
A quick and easy solution for regular loading and unloading of ladders.

From £65.00

Modular Roof Baskets
Ideal for carrying awkward and bulky items.

From £114.00

Rear Door Ladder
Designed to allow access to the roof of the van, enabling loads to be securely fastened into position.

From £88.00

Roof Platform
Exceelent additon to Roof Racks by assisting in the loading and unloading of roof rack systems.

From £130.00

Tuffbank
A heavy weight range fo tool and equiopment storage boxes for the rear of your vehicle.

From £138.00

Universal Seat Covers
Cost effective method of protecting van seats from everyday wear and tear.

From £15.00

Vanvault
A versatile range of tool and equipment storage boxes designed to protect inside or on the back of vehicles.

From £35.00

Vg Pipecarriers
Anodised aluminium pipe carriers complete with lockable ends.

From £115.00

Vv Pipecarriers
Large capacity, light weight, pipe and tubing carrier that fits all common roof rack systems.

From £114.00

RACKING

Galv Rack A
4 Shelf Galvanised Steel Racking System with 2 rows of removable trays & 2 shelves with dividers

From £225.00

Galv Rack B
2 Drawer & 2 shelf Galvanised Steel Racking System with dividers

From £264.00

Galv Rack F
Galvanised Top Shelf Extension (suits all Galv Rack systems)

From £54.00

Galv Rack G
3 Shelf Galvanised Steel Racking System with dividers

From £193.00

Galv Rack H
4 Shelf Galvanised Steel Racking System with 12 removable polypropylene trays

From £251.00

Modular 40
Economic Shelving Unit consisting of 3 shelves with adjustable dividers.

From £245.00

Modular 42
Shelving Unit consisting of 3 Rows of Large Plastic Bins

From £284.00

Modular 47
Modular unit consistng of lockable base unit, 3x service cases, lockable cabinet and single row of large plastic bins.

From £532.00

Modular 51
Modular Racking Unit consisting of lockable base unit, set of 3 service cases, 3 Drawer Unit and sturdy workbench top.

From £643.00

Ply Rack A
9x Pigeon hole ply racking unit

From £150.00

Ply Rack B
6x pigeon hole and shelf ply racking unit.

From £150.00

Ply Rack C
6x pigeon hole and drawer ply racking unit

From £150.00

Ply Rack D
3x drawer slimline ply racking unit

From £150.00

Ply Rack E
Component ply storage rack with plastic bin compartments.

From £222.00

ProtektaPlate - Vivaro/Trafic/Primastar

STOPS YOUR HANDLES BEING RIPPED OFF!!

RRP £66.00

Now from £42.00