DeadLock for Ford Transit - [2006>2014]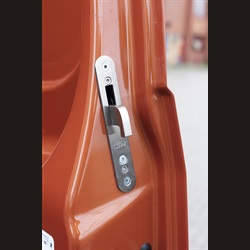 Our Bristish Standard DeadLocks have been used with great success in the industry for many years and still tend to be the preferred option for many users. They improve security by adding an additional locking point to the door and therefore work independently to the vehicles existing locking mechanism. Requiring user interaction gives flexibility by allowing the operator to decide when the deadlock is locked/unlocked.
Our door specific DeadLock has modernised the original dead locking systems and brought this product up to date to address the ever more demanding needs of the modern commercial vehicle operator. Our DeadLock differs from those conventionally provided by some other suppliers due to the use and design of specific fixings and brackets for each application.
We do not work on the policy 'one lock fits all' and have spent time developing a DeadLock system of which we believe responds to the market needs and addresses the vulnerabilities of each individual application.
Please look at Key Options to assist with choosing the correct key system for your requirement.
DeadLock kits are automatically supplied keyed alike [all operate from one key] and are supplied with full fitting instructions and fixings.
NOTE:
If you require DeadLocks for the rear tailgate on your vehicle they are supplied in pairs [for maximum security] and are available as an additonal option [where applicable] to other doors that you may require DeadLocks. Kits will automatically be supplied keyed alike when purchased for same vehicle.
Where possible extra components may be offered as an additional option to maximise certain DeadLock applications (these are recommended but not compulsary).
Ordering:
Please select your vehicle and choose how many doors you wish to protect from the PRODUCT drop down box.
Next you will be asked to select the door OPTIONS [applicable to your chosen vehicle] by clicking in the box against selected option.
Confirm the QTY of packs required and click BUY NOW to proceed to checkout.
Please click 'continue shopping' in order to add additonal options such as tailgate or extra components.
SECURITY
Armaplate

Deadlock
Improve security by adding an additional locking point to the door, working independently to the vehicles existing locking mechanism. Provides flexibility by allowing the user to decide when the deadlock is locked/unlocked.

From £53.00

Lockblank
Stainless Steel lock blanking plate.

From £20.00

Loomguard
Designed to prevent cutting of vulnerable wiring loom guard on select vehicles.

From £20.00

Replacement Keys
After continuous use all keys will wear. To ensure the correct operation of your additional Security Locks, the key may need to be replaced. Replacement Keys are available to order on line by following the steps below.

From £12.50

Replock

From £115.00

Slamlock
Our SlamLock automatically locks when the vehicle door closes and cannot be reopened unless the correct high-security key is used.

From £53.00