HandleGuard for Ford Transit - [2006>2014]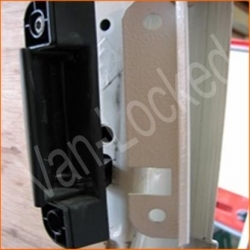 The Transit HandleGuard protects the internal side door handle from being manipulated when the vehicle is on single lock or fitted with SlamLocks from outside. A common tactic by thieves is to use a flat object to slide past the rubber and operate the internal release whilst outside the vehicle. Fitted in minutes, using existing handle fixings.
Aesthetically pleasing and strong construction makes this a desirable security addition.
ORDERING:
Select vehicle from list
Select PRODUCT option from drop down box.
Confirm QTY required and then click BUY NOW to proceed to secure checkout.

SECURITY
Armaplate

Deadlock
Improve security by adding an additional locking point to the door, working independently to the vehicles existing locking mechanism. Provides flexibility by allowing the user to decide when the deadlock is locked/unlocked.

From £53.00

Handleguard
Innovative product range used to address exisitng weaknesses found in certain manufacturers mechanisms.

From £20.00

Lockblank
Stainless Steel lock blanking plate.

From £20.00

Loomguard
Designed to prevent cutting of vulnerable wiring loom guard on select vehicles.

From £20.00

Replock

From £115.00

Slamlock
Our SlamLock automatically locks when the vehicle door closes and cannot be reopened unless the correct high-security key is used.

From £53.00

Ultimate
The Ultimate has been designed, manufactured and tested to address and combat the existing and potential methods used by even the most determined would be thief.

From £123.33