Search
Security
Motorhome Security
Accessories
Racking
Bulkheads for Ford Transit - [2000>2006]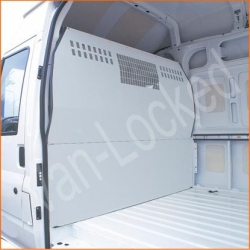 Our VG Bulkheads have been developed and designed to suit each particular van make and model. Manufactured from robust zinc coated steel, which is then powder coated in a light grey finish, providing excellent anti-corrosion properties.
By seperating the vehicle cab from the rear load area they increase security and provide an excellent deterrent against theft of property from the load area of the van. They can also assist in protecting the driver from the danger of shifting loads under braking.
All bulkheads utilise manufacturers fixing positions where possible and are supplied with detailed fitting instructions and fixings per vehicle.
There are three variations available for most vehicle models, solid, punched top or Perspex window.
Solid Bulkhead
Our solid bulkhead provides a complete visual barrier between the cab and the load area, keeping tools, stock or equipment hidden out of sight.
Punched Bulkhead
The punched bulkhead offers a limited view into the load area, which allows for the rear view mirror to be used without compromising security.
Window Bulkhead
With a small Perspex window located in line with the rear view mirror, the window bulkhead makes an excellent visual deterrent without restricting the driver's ability to see when reversing.
**FREE DELIVERY ON ALL VG BULKHEADS**
Ordering:
Please select your vehicle.
Select PRODUCT options from the drop down box.
Next youmay be asked to select the OPTIONS [applicable to your chosen product] by clicking in the box against selected option.
Confirm QTY required and click BUY NOW to proceed to checkout.
SECURITY
Armourshell
The ArmourShell has been designed, manufactured and tested to address and combat the existing and potential methods used by even the most determined would be thief.

From £119.00

Catloc
The highly effective, cost effective CATLOC is a market leading catalytic converter and particulate filter anti-theft device.

From £95.26

Catloc Isr Kit
Catalytic converter security marking and registering kit.

From £9.99

Clutchclaw
Prevents theft of a vehicle by locking the break and clutch pedal together.

From £81.50

Deadlock
Improve security by adding an additional locking point to the door, working independently to the vehicles existing locking mechanism. Provides flexibility by allowing the user to decide when the deadlock is locked/unlocked.

From £10.50

Handleguard
Innovative product range used to address exisitng weaknesses found in certain manufacturers mechanisms.

From £19.00

Lockblank
Stainless Steel lock blanking plate.

From £15.00

Loomguard
Designed to prevent cutting of vulnerable wiring loom guard on select vehicles.

From £18.50

Pedalbox
Secure encasement of vehicle pedals to prevent the possibility of vehicle theft.

From £129.50

Replock
The RepLock allows for secure replacement of the original manufacturers lock.

From £47.00

Slamlock
Our SlamLock automatically locks when the vehicle door closes and cannot be reopened unless the correct high-security key is used.

From £47.00

Sparelock
Locking device offering protection against theft of vehicles spare wheel.

From £48.75

MOTORHOME SECURITY

Abus Deadbolt
Additonal locking option for fitment on most habitational, shutter and compartment doors on motorhomes and caravans.

From £16.90

Heosafe Cab Locks
Internal locking systems designed for motorhomes but also a good addition for the concerned van operator

From £104.52

Heosafe Pos Lock
Excellent security for habitation doors on both motorhomes and caravans - using POS type locks

From £59.49

Heosafe Upgrade Kit
Replaces the existing vulnerable handle with a high security HeoSafe kit.

From £86.83

Heosafe Zadi Lock
Excellent security for habitation doors on both motorhomes and caravans - using Zadi type locks

From £59.49

ACCESSORIES

Bulkheads
Seperates the cab from the load area providing an excellent deterrent against theft.

From £174.00

Extension Bars
Maxrack Extension Bars

From £16.00

Eye Bolts
VG Stainless Steel Eye Bolts

From £10.00

Fire Extinguishers
ABC Dry Powder Fire Extinguisher

From £27.00

Flettner Roof Vent
Designed to extract air from the van load area, reducing the effects from unwanted fumes, smells and condensation.

From £83.00

Front Load Stops
Prevents loads carried on roof systems from slipping forward under braking.

From £33.00

Hope Safe T Bar
The leading industry manufacturer of rear protection bars.

From £15.50

Ladder Clamps
Cost effetive solution to securing ladders on a roof system.

From £26.00

Ladder Slides
A quick and easy solution for regular loading and unloading of ladders.

From £65.00

Lockable Parcel Shelf
Lockable parcel shelf cover offers protection for items stored above the cab on medium and high roof vehicles.

From £76.00

Maxrack
The VG Maxrack Gallery Rack is robust, lightweight, versatile and easy-to-fit

From £304.00

Modular Roof Baskets
Ideal for carrying awkward and bulky items.

From £114.00

Rear Door Ladder
Designed to allow access to the roof of the van, enabling loads to be securely fastened into position.

From £88.00

Rear Door Ladder
Designed to allow access to the roof of the van, enabling loads to be securely fastened into position.

From £88.00

Rear Towing Step Bumper
Heavy duty protection for rear of vans with added towing facility.

From £216.20

Rear Tubular Step
Cost effective rear step for vans.

From £122.20

Roof Bars
Roof bars are the ideal addition to anyone that wishes to increase their vehicles carrying potential

From £42.00

Roof Platform
Exceelent additon to Roof Racks by assisting in the loading and unloading of roof rack systems.

From £130.00

Sun Visor
Reduce glare from the sun and help to maintain a lower in cab temperature.

From £200.00

Tuffbank
A heavy weight range fo tool and equiopment storage boxes for the rear of your vehicle.

From £138.00

Universal Seat Covers
Cost effective method of protecting van seats from everyday wear and tear.

From £15.00

Vanvault
A versatile range of tool and equipment storage boxes designed to protect inside or on the back of vehicles.

From £35.00

Vg Pipecarriers
Anodised aluminium pipe carriers complete with lockable ends.

From £115.00

Vv Pipecarriers
Large capacity, light weight, pipe and tubing carrier that fits all common roof rack systems.

From £114.00

Wind Deflectors
Increase comfort when driving with windows open by deflecting wind and rain.

From £47.00

Window Grilles/blanks
Proven visual deterrent against theft through van windows.

From £14.67

RACKING

Galv Rack A
4 Shelf Galvanised Steel Racking System with 2 rows of removable trays & 2 shelves with dividers

From £225.00

Galv Rack B
2 Drawer & 2 shelf Galvanised Steel Racking System with dividers

From £264.00

Galv Rack F
Galvanised Top Shelf Extension (suits all Galv Rack systems)

From £54.00

Galv Rack G
3 Shelf Galvanised Steel Racking System with dividers

From £193.00

Galv Rack H
4 Shelf Galvanised Steel Racking System with 12 removable polypropylene trays

From £251.00

Modular 40
Economic Shelving Unit consisting of 3 shelves with adjustable dividers.

From £245.00

Modular 42
Shelving Unit consisting of 3 Rows of Large Plastic Bins

From £284.00

Modular 47
Modular unit consistng of lockable base unit, 3x service cases, lockable cabinet and single row of large plastic bins.

From £532.00

Modular 51
Modular Racking Unit consisting of lockable base unit, set of 3 service cases, 3 Drawer Unit and sturdy workbench top.

From £643.00

Ply Rack A
9x Pigeon hole ply racking unit

From £150.00

Ply Rack B
6x pigeon hole and shelf ply racking unit.

From £150.00

Ply Rack C
6x pigeon hole and drawer ply racking unit

From £150.00

Ply Rack D
3x drawer slimline ply racking unit

From £150.00

Ply Rack E
Component ply storage rack with plastic bin compartments.

From £222.00

ProtektaPlate - Vivaro/Trafic/Primastar

STOPS YOUR HANDLES BEING RIPPED OFF!!

RRP £66.00

Now from £42.00