Armaplate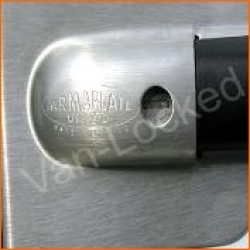 Armaplate is one of the original brands and probably the best known in van security today. It has been used with great success for the past decade and is designed to protect the existing manufacturers handle/locking system and prevent forced entry by reinforcing the immediate vulnerable area around the handle or lock, often targeted by thieves. Once installed Armaplate products require no user interaction.
Manufactured from a solid two plate design, this simple but effective range of products is ideal for those who wish to retain use of their existing keys. Large Stainless Steel contoured exterior plates act as a strong visual deterrent, and the internal bolt fixed reinforcing plates are the foundation of this products strength.
Ideally used to prevent break-ins but can also be used after a successful or attempted theft to re-secure the door and cover the damage, often saving on expensive bodywork repair bills.
Not available for tailgate doors.
Ordering:
Please select your vehicle and choose how many doors you wish to protect from the PRODUCT: drop down box.
Next you will be asked to select the door OPTIONS [applicable to your chosen vehicle] by clicking in the box against selected option.
Lastly confirm the QTY of packs required and click BUY NOW to proceed to checkout.
We stock Armaplate Security Products for the following Vans: