Hope Safe T Bar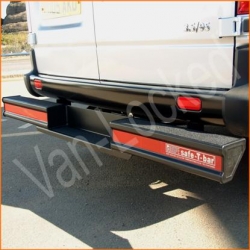 The Hope Safe-T-Bar is the name associated with, and that to beat when it comes to manufacturing quality protection products for the rear of vans.
The original Hope Safe-T-Bar is constructed using high tensile cold-formed alloy steel, positioned to protect the rear of your vehicle from fork-lift loading, reversing damage and day to day knocks.
Designed to fit most leading makes and models of vans available on todays roads, it has pioneered the levels of expected safety and strength expected from this type of product.
The Hope Safe-T-Bar's durable non slip top surface provides a safestep area, helping to prevent accidents when entering and exiting the the vehicle. The recognisable Red reflective strip offers improved visibilty during the day, night and in poor lighting conditions. The unique recess helps prevent wear and tear on the reflective strip, maintaining safety and appearance
All Safe-T-Bars undergo a four stage anti corrosion process:
1.Degrease | 2.Shot Blast | 3.Zinc Phospate | 4.Powder coating,
ensuring the finish meets and exceeds the 1000 hour salt spray test demanded by motor manufacturers.
Where possible and available all mounting brackets bolt to the vehicle chassis using the manufacturers specified mounting points; this ensures a solid but easy fitting process.
Available Safe-T-Bar models include: Straight Protection, Recess Step and Towing Bumpers.
Hope are commited to an on-going programme of tow bar testing to EC94/20.
We now also supply replacement Red reflective strips and end caps for all bars.
Ordering:
Please select your vehicle from list
Select desired product the PRODUCT drop down box.
Next you will be asked to select the OPTIONS [applicable to your chosen vehicle] by clicking in the box against selected option.
Confirm the QTY of packs required and click BUY NOW to proceed to checkout
We stock Hope Safe T Bar Accessories Products for the following Vans: